Doug and Adriane Witcher

Broker / Owner

in High Point, NC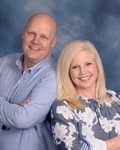 Professional Designations
REALTOR
Expertise Types
Buyer Broker, Condominiums, New Homes, Relocation, Residential, Single Family Homes, Townhomes
Witcher Home Team
Treating customers like family is both a guiding principle and a way of life for the Witcher Home Team. Comprised of husband and wife duo Doug and Adriane Witcher, alongside a hardworking team of agents at NextHome Realty Partners, the Witcher Home Team is dedicated to listening intently and matching individuals and families with the properties, buildings, and neighborhoods that best suit their needs.
The Witcher Home Team represents homeowners and future homeowners in the Triad area of NC, including High Point, Greensboro, Jamestown, Archdale, Trinity, Winston-Salem, Kernersville, Oak Ridge, and surrounding areas.
Doug and Adriane Witcher are known for their integrity and equanimity in difficult situations and for their ability to think outside the box to get the deal done. They are committed to listening to their client's needs and utilizing their keen negotiating skills to ensure a successful transaction.
As North Carolina natives and as licensed real estate brokers and REALTORS® in NC, the Witchers combine their love of the real estate industry with their intimate knowledge of the Triad region. The Witchers are not only area experts but are also self-made experts in the home-buying and selling process. Over the past 20 years, Doug and Adriane have purchased and lived in 12 homes, built new construction, flipped homes and owned as many as 52 acres with 7 rental properties on it.
Doug and Adriane have been "all in" since the beginning of their real estate career. In their first year as real estate professionals, the Witchers sold nearly 5 million dollars in real estate. From there, they went on to start their own independent firm in 2017 and then most recently, purchased a NextHome franchise in 2019 to stay ahead of their various forms of competition.
The Witcher Home Team is backed with unmatched technology and support that allows their team to provide custom marketing services, personalized and tailored specifically towards each unique property that is listed.
Tenacity, skill, collaboration, and years of proven experience are what drive the Witcher Home Team. The professional cohesion and balance that Doug and Adriane possess, both in business and in life, are instantly evident, complementing one another to deliver unparalleled service.
Doug and Adriane Witcher and The Witcher Home Team are a one-of-a-kind real estate team, who take pride in a business model focusing less on a "turn and burn" mentality in their transactions, but instead, on maintaining a focus on quality service for each buyer or seller. The Witcher Home Team's goal is to make each buyer or seller feel as though they are the only client they are working with, though they may be one of ten at the time. Contact us for more information to begin to see our difference!
________________________________________________________________________________
Doug Witcher
Since the early 1900s, Doug's family has resided in the Jamestown/High Point area. Doug was born in High Point and still calls the area home. Doug's natural professionalism and leadership is attributed to a broad range of experience including four years in the Air Force as an aircraft mechanic and combat veteran who spent six months in Saudi Arabia in the first Gulf War. He has started and operated multiple successful business ventures within the transportation industry. Doug's exceptional negotiating capabilities, creative know-how, and pragmatic vision yield unprecedented results for even the most challenging real estate endeavors.
Adriane Witcher
Adriane's family has also resided in the Triad area since the early 1900s. Other than the four years she spent at UNC-Chapel Hill after graduating from high school, she has spent her life professionally and personally close to her home town of Kernersville and therefore has an intimate knowledge of the area. Whether it be communicating with a homebuyer to assist in the search for their ultimate dream home or developing and deploying unique property listing strategies, Adriane's results- oriented approach, attention to detail, and ability to multitask are incomparable. Delivering passion, organization, integrity, and client-centric services, Adriane has built an impeccable reputation with a core group of past and current clients. Years of account management experience have fine-tuned her ability to effectively navigate and exceed the needs of her clientele.